Michele Miller, CCC-SLP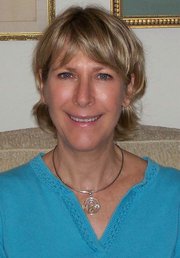 I am the owner of
The Communication Spot
where I provide speech-language therapy. Over the past 30 years, as a Speech-Language Pathologist, I had the opportunity to develop skills and gain experience while working with diverse pediatric caseloads in a variety of settings. This experience includes working with children diagnosed as having:
· Apraxia of Speech
· Phonological Speech Disorders
· Autism Spectrum Disorders
·
Hearing Impairment/Deafness
· Down Syndrome
· Cerebral Palsy
· Other Developmental and Cognitive Disorders.
I have worked with toddlers through high school age clients. I am excited by this diversity. Whether a child has a mild articulation deficit or a severe communication disorder, I work enthusiastically with both the child and the family. My blend of utilizing evidence based interventions and creative lessons has brought about positive change for many children.
Professional credentials
· B.S., Speech-Language Pathology with a Deaf Education Minor, Ball State University, Muncie, IN
· M.A., Speech-Language Pathology, Ball State University, Muncie, IN
· Licensed as a Speech-Language Pathologist (SLP) in the State of Georgia
· Certificate of Clinical Competence (CCC) in Speech-Language Pathology
Professional Activities
· Member of the American Speech-Language Hearing Association (ASHA)
· Member of the Georgia Organization of School Based Speech-Language Pathologists (GO SSLP)
· I keep informed of the latest developments in the field and stay current with
best practices
by
regularly attending continuing education conferences.
* DIR/Floortime Model training through ASHA Professional Development was completed 6/15/2012
Professional Honors:
· GO SSLP Honors of the Organization Award, 2007
· Marietta City Schools' Special Services Certified Employee of the Year, 2002
· Cobb-Marietta Council for Exceptional Children (CEC) Member of the Year, 1992 and 1994
· Marietta City Schools' Special Educator of the Year for outstanding performance, 1988
Check out my Healthgrades page.
Parent Testimonials:

"Michele Miller helped my son's fluency and stuttering by patiently teaching him techniques that he could use at home, at school and with his friends. I never in a million years thought his speech could improve so much in such a short period of time. Michele was always patient and conducted her speech sessions with games and interesting topics to keep my son's interested the entire time. Thanks Michele! Tracy Zoblisein"
-------------------------------------------------------------------------------------------------------------------------------
"If only I had found Michele earlier! My son is on the autism spectrum with speech, conversation, enunciation, etc...issues. She is absolutely amazing at setting specific objectives and working my son hard but in an atmosphere that is enjoyable. She comes up with strategic ways to ultimately accomplish the goals. She is very in tune with what works for some kids may not work for others. For instance, my son loves a particular magazine, so Michele bought the magazine monthly to utilize in her part of her teaching sessions since it held his attention and made that part of the session fun but effective. She is on top of different apps and the newest programs that can specifically target the objectives. She is extremely detailed with her follow up with parents so that we are very informed of progress. My son has made so much progress and we owe it to Michele and her vast years of experience." C. Wells
---------------------------------------------------------------------------------------------------------------------------------

We send both of our boys to The Communication Spot. Both love Miss M.!! She is very interactive, and the thing I like about it the most is you learn techniques because you are allowed back with them to observe and interact, as well!!!
Patrick Mayfield
The Communication Spot, LLC
1690 Stone Village Lane, Suite 202
Kennesaw, GA 30152
Phone #: 770-795-4990 email: 1commspot1@att.net
---