Speech-Language Therapy Services
Areas Served: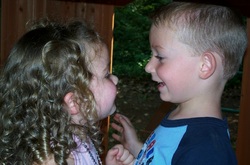 Evaluation and treatment of delays and disorders in the areas of:
Articulation/Phonological:
speech sound development
Fluency:
stuttering and related disorders
Language:
Syntax..............................
understanding and using
grammar
Semantics...........................
understanding and using words to communicate
Pragmatics.........................
understanding and using social language
Auditory/
Language Processing
...listening skills
Phonemic Processing
.............. identifying & manipulating sounds
(often related to reading difficulties)
Voice & Resonance:
hoarseness/pitch/nasality
*
medical evaluation would precede voice/resonance therapy
Augmentative/Alternative Communication (AAC): alternate means
of communication to supplement existing speech or to give
a replacement when there is no speech
Parent Testimonials:
"We had a great experience with The Communication Spot and would recommend them to anyone considering speech therapy. Ms. Miller is professional and excellent at instructing her students on how to make changes in their speech. We were pleasantly surprised how quickly our child progressed through the program. My daughter enjoyed and looked forward to going to speech, because of the games they played while she practiced saying certain letters and phrases. I found Ms. Miller to be flexible and accommodating with our busy schedule and a very enjoyable and pleasant person"....Maureen
*****************************************************************************************************************************

"My daughter has speech apraxia and a phonological disorder, and we started working with Michele after my daughter aged out of the Babies Can't Wait program. Michele's experience and heart to help kids are both very evident, and she's truly an all-star in her profession. My daughter has made great progress under Michele's care, and the progress has actually exceeded my expectations. I didn't think that my daughter would be able to make as many consonant sounds as she's making now, after only a short period of time. Michele also works great with us as the parents, and really listens to our needs and desires for our daughter. She even takes time to sit down with us Outside of therapy time, to discuss our concerns and desires and to map out goals and a plan for our Daughter. Michele makes therapy time very fun and interactive, and our daughter does not even feel like she's in a therapy session. She just feels like she's having playtime and really enjoys going to therapy. All in all, I highly recommend Michele and think she does an outstanding job." D.L.
*************************************************************************************************************************************
This therapy has been a great experience for my son. He had a few problems such as rate, w and y sounds, and inflection. Michele addressed all of these issues just by playing games with him. He loved going to speech and we are both going to miss Michele.
* Click on red words to link to information sites.

The Communication Spot, LLC
1690 Stone Village Lane, Suite 202
Kennesaw, GA 30152
Phone #: 770-795-4990 email: 1commspot1@att.net
---